Prudential Pest Solutions provides bed bug treatments for all of Chester County. Our Chester County clients appreciate our affordable, professional, effective bed bug treatments.
Having a bed bug infestation can be a very stressful time. You will be put at ease when Prudential Pest Solutions is treating your home for bed bugs. Our treatments will get you bed bug free fast and worry-free!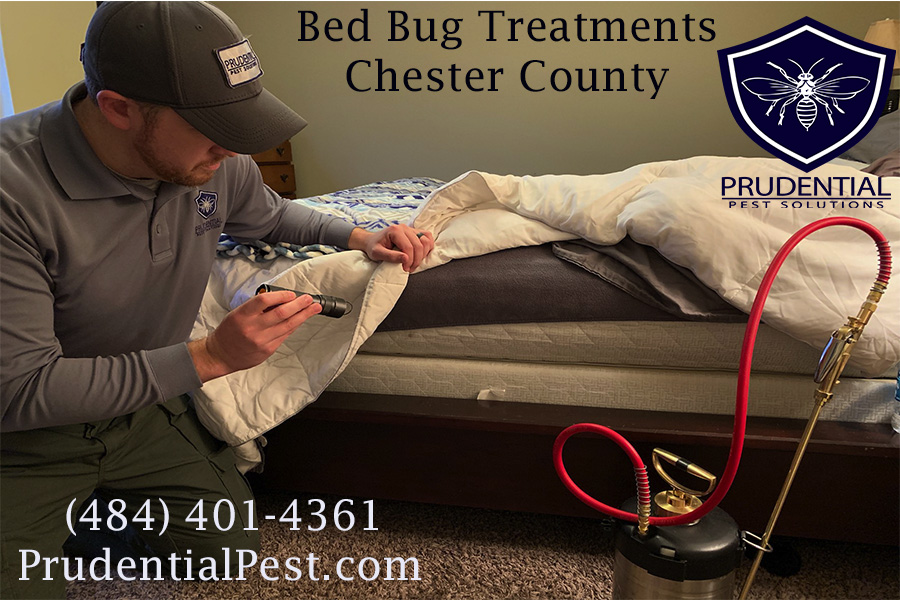 Our Bed Bug Treatment Method
Thorough Inspection and Analysis to confirm bed bug infestation
Chemical Treatments to quickly and effectively kill bed bugs and eggs
Long lasting protection for residual protection
We vacuum the area BEFORE and AFTER the treatment to remove as many bed bugs and eggs as possible
We apply insecticide to all of the cracks and crevices where bed bugs live and hide
Treatments include chemical sprays and insecticide dusts to effectively and quickly attack the bed bug infestation
Mattress steam cleaning service available (optional)
Excellent Follow-up Service and Communication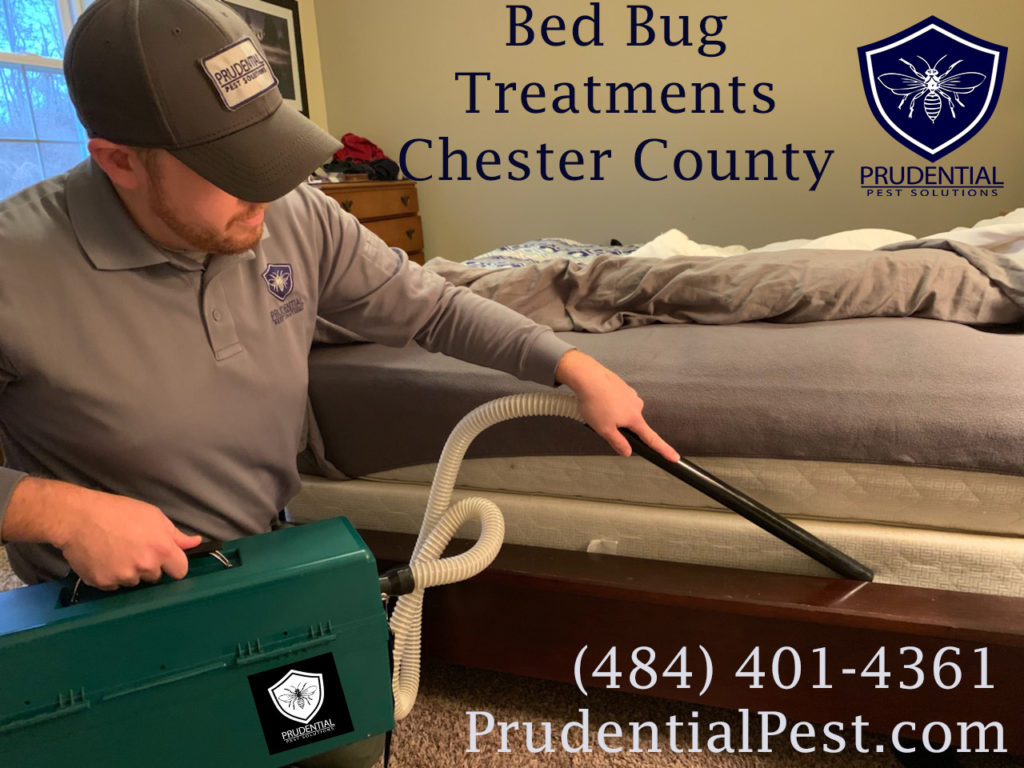 Where did I get bed bugs?
This is the most common question we get regarding bed bugs. The truth is, bed bugs can be picked up and transported from just about anywhere. Bed Bugs often are associated with lower income or "dirty" homes. This is NOT the case! These blood feeding insects are found where there are people. These blood-feeding insects do not care where you live, where you work, or what your bank account says.
Want to find out where bed bugs like to hide? Check out our bed bug location article here.
Don't be embarrassed by a bed bug problem, send us a message and we can get you bed bug free!
What makes us different?
Plenty of companies offer chemical treatments for bed bugs. Our experienced and knowledgeable bed bug technicians will walk you through our inspection and treatment process. Prudential Pest Solutions takes great pride in our thoroughness of treatment and our communication to our Chester County clients.
We use a HEPA bug vacuum to remove as many bed bugs and eggs as possible. This critical step increases the effectiveness of our treatments. You can find out more details about our bed bug vacuum here.
Our affordable pricing and professional service make our bed bugs treatments second to none!
Bed Bug Exterminator Chester County
There are many things that can mimic the bites of bed bugs. A thorough bed bug inspection is critical to determining a treatment option. Some things that can be confused with bed bugs are:
Carpet Beetles
Allergies
Mosquitoes
Scabies
All of the above issues would NOT have been resolved by performing a bed bug treatment. This is why the inspection process is so important. Proper identification leads to proper treatments.
How to schedule your treatment?
Give us a call or send us a message and we will get you bed bug free quick!