Prudential Pest Solutions is West Chester Termite Company. Our termite treatments and termite inspections can protect your home from the devastating damage caused by termites. Your home is your largest investment, you need West Chester's Termite experts to protect it!
Whether you have termites or think you have termites, we need to talk. Our no-pressure inspections and consultations will provide you with the knowledge and pricing to protect your home from termites for years and years.
We are Chester County's Best Termite Exterminators!
West Chester Termite Treatment Options
Your home and property are unique. That is why we offer a full range of termite control options for our West Chester and Chester County clients. From liquid applications to termite monitoring/baiting systems, to eco-friendly termite solutions, we have a termite control method for you!
The first step in the termite control process is to verify and inspect that you in fact have termites. You may be surprised at the amount of clients who think they have termites but actually have ants, carpenter ants, or wood beetles.
When it comes to termites, you need a termite expert!
Termidor Treatments in West Chester PA
Termidor is the BEST liquid termite treatment chemical available. Your home deserves the most effective treatment and Termidor provides that treatment! We are Termidor Certified Applicators and have the knowledge and equipment to treat and prevent termite infestations.
All of our Termidor treatments come with a termite warranty so you can be sure that your home is protected for years and years!
Termite Monitoring and Baiting Systems
Not every house and property are the same and Termidor may not be the best solution to your termite issue. Whether you have a well on the property or simply want to monitor for termites, our termite monitoring and baiting systems may be a better fit for you.
Our West Chester PA termite monitoring and baiting systems allow us to monitor for termite activity BEFORE damage occurs to the home. In addition to monitoring for termite activity, if termites are detected, then the treatment process begins immediately.
For our clients that prefer a non-chemical termite alternative, the termite monitoring and baiting system is a great choice!
Termite monitoring and baiting systems are effective and are a great preventative measure against termites!
Eco-Friendly Termite Options in West Chester PA
For our clients that prefer eco-friendly termite control options, we utilize Bora-Care. Bora-Care is a borate salt solution that we can apply to exposed wood that has termites or that you want to prevent from termites. Although not as versatile as Termidor, Bora-Care can be a great option to preventing termites on exposed wood.
Termite Exterminators in West Chester PA
Whether you have termites, or think you have termites, we need to talk! We are West Chester and Chester County's best termite exterminators! Prudential Pest Solutions is a fully licensed and insured termite control and pest control company servicing West Chester and the surrounding areas.
As a Marine Corps Veteran with a degree in Biology from Penn State, I promise you haven't met a termite exterminator like us before!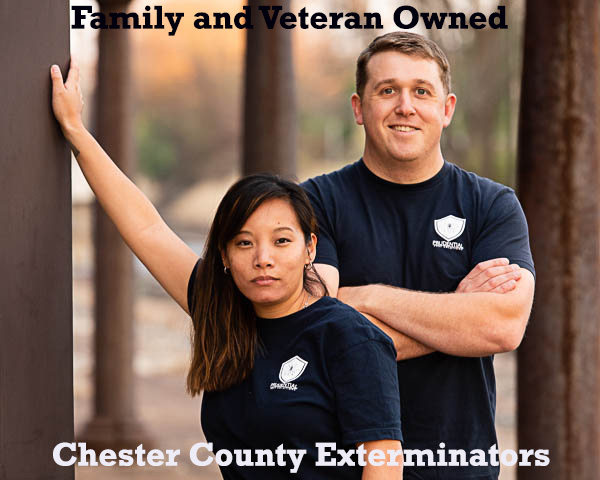 Give us a call or text us at (484) 401-4361 to speak with West Chester's best termite exterminators!