Prudential Pest Solutions is Reading PA Termite Company! As a Berks County Termite Control Company, we know the area and are ready to protect your home. We are the experts at identifying, treating, and preventing termite infestations. Your home is your largest investment, don't allow these destructive wood destroying pests to literally eat you out of house and home!
Termite Treatments in Reading PA
Maybe you just bought or sold your home and termites were found. Maybe you had some construction done on your house and the contractor found termites. Or maybe every spring you get what looks like flying ants in the house. Whether you think you have termites, know you have termites, or simply want to prevent termites, we are the professionals you need!
Prudential Pest Solutions has many termite treatment and prevention options for your home and property. From complete perimeter liquid treatments using Termidor, to termite monitoring and baiting stations, to natural termite products.
If you have termites, we have options!
Termidor Termite Treatments in Reading PA
Termidor is the best termite treatment product available. Since your home is your largest investment, it makes sense to protect it from termites using the best products! Our Termidor treatment process will protect your home for years and years. All of our termite treatments come with a warranty so that you know that your home is protected against termites for the long term!
We are Certified Termidor Applicators!
Termite Monitoring and Baiting Systems Reading PA
In some circumstances, Termidor is not the best method to use to eradicate your termite issue. Not to worry! We have a full complement of termite treatment options. Our termite monitoring and baiting systems can identify termite activity BEFORE damage occurs to your home. The best part is that once termite activity is detected, the treatment process has already begun.
Termite monitoring and baiting systems are ideal for homes with a well on the property or in homes that do not have an active termite issue but want to protect the home for years to come.
Eco-Friendly Termite Treatments in Reading
Prudential Pest Solutions also offers Eco-Friendly Termite Treatments in Reading PA and the surrounding areas. Using a product called Bora-Care, which is a borate salt solution, we are able to treat exposed wood to treat and prevent termites.
Although not an ideal treatment method for an active termite infestation, our Bora-Care treatments are an eco-friendly alternative that can still provide excellent termite protection and prevention.
Reading PA Termite Experts
Prudential Pest Solutions is a fully licensed and insured termite treatment and inspection company. We are Reading Pa's termite experts! As a Veteran and Family owned and operated termite control company, you can trust us to protect your home from the damage caused by termites.
As a Marine Corps Veteran with a degree in Biology from Penn State, I promise you haven't met a termite exterminator like me before!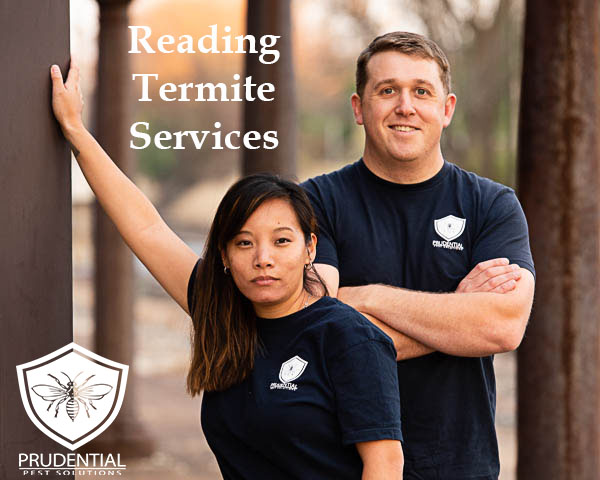 Give us a call or text us at (484) 401-4361 to speak with a termite professional today!