Our client in New Holland PA had a yellow jacket nest under a bush at their front walkway. This ground yellow jacket treatment is our specialty! We are the area's EXPERTS at treating, removing, and preventing yellow jacket infestations!
New Holland Yellow Jacket Treatments
Our yellow jacket nest treatments involve treating AND removing the nest. The removal of the nest is important to ensure that the entire nest has been treated and that the yellow jackets can't return. Since this yellow jacket nest was located alongside the front walkway, it was important to ensure that the nest was removed.
We begin our yellow jacket treatments by donning our protective gear. This protective gear allows us to get up close and personal to the yellow jackets and their nest. While most pest control companies simply spray the area and leave, we directly treat the nest and completely remove it. This process ensures a successful treatment!
Yellow Jacket Expert in New Holland PA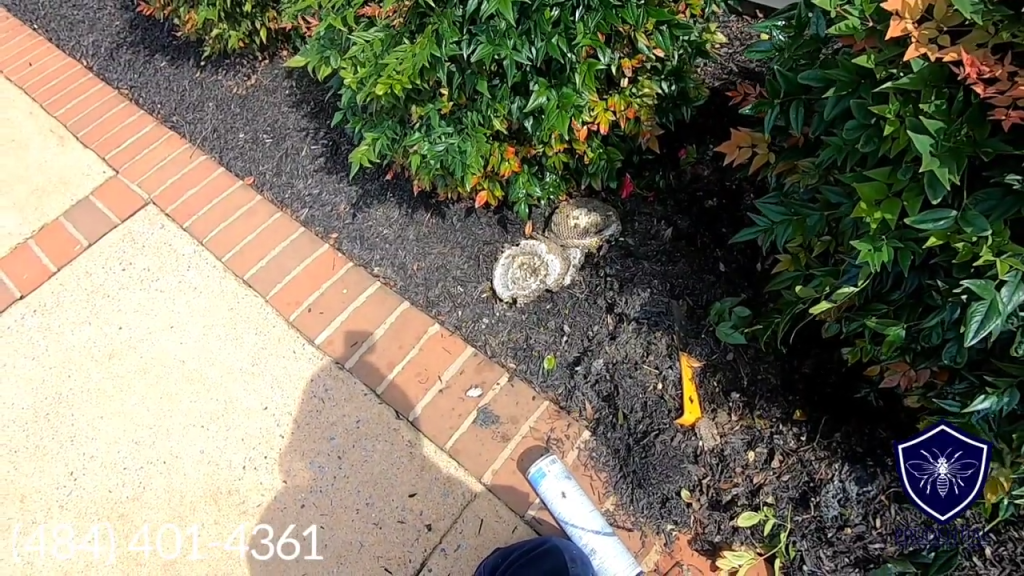 If you have a yellow jacket issue, it's time to call the pros at Prudential Pest Solutions! We are fully licensed, insured, and experienced to handle ANY yellow jacket issue you have. As a Marine Corps Veteran with a degree in Biology from Penn State, I promise you haven't met a yellow jacket exterminator like me before!
About New Holland Pest Control
Prudential Pest Solutions is a VETERAN and FAMILY-OWNED pest control and exterminating company that services New Holland PA and the surrounding areas. We service Lancaster County, Berks County, Chester County, and ALL of South Eastern Pennsylvania.
If you have a ground yellow jacket nest, it's time to contact the professionals at Prudential Pest Solutions! Give us a call or text us at (484) 401-4361 to speak with a yellow jacket expert today!