Our client in Morgantown PA was seeing yellow jackets next to the steps of their hot tub. They suspected they had a yellow jacket nest under the hot tub and called the professionals at Prudential Pest Solutions! A hot tub is supposed to be a relaxing and tranquil space. The yellow jackets, and their aggressive nature, was preventing our clients from relaxing. Time to treat and remove this yellow jacket nest!
Morgantown PA Yellow Jacket Treatments
When we arrived at the client's home, we discovered that there were many yellow jackets coming and going from under the front right corner of the hot tub. This area was obstructed by bushes making it difficult to visually see where the yellow jackets were going. The client was concerned because all of the yellow jacket activity was next to the steps getting into the hot tub.
Our first step was to remove a side panel of the hot tub to see the inside of the hot tub cabinet. We were initially convinced that the yellow jacket nest was going to be in the hot tub cabinet itself. What we discovered upon removing the panel was that the yellow jackets had actually made their nest UNDER the hot tub.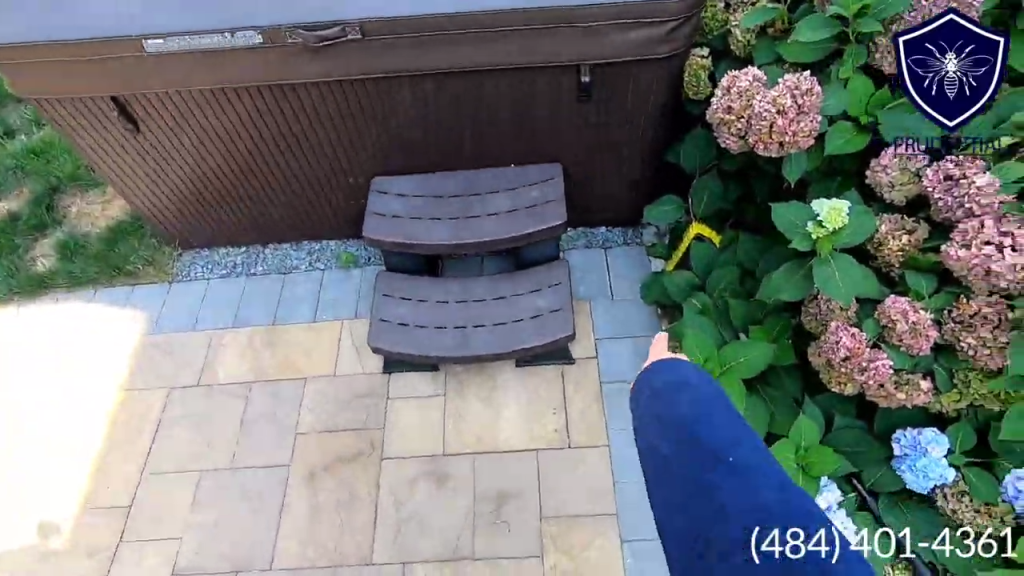 Yellow Jacket Exterminators Morgantown PA
Prudential Pest Solutions are the EXPERTS at treating, removing, and preventing yellow jacket nests. Our treatments are professional, affordable, and effective!
If you live in or near Morgantown PA and have a yellow jacket issue, it's time to call the pros at Prudential Pest!
We are fully licensed, insured, and experienced to handle ANY yellow jacket issue you have. Most pest control companies will spray the area and call the job complete. Not us! We get up close and personal to the yellow jackets to find their nest and eradicate it. Many times, we are able to remove the nest completely during our treatment so that the homeowner can get back to enjoying their hot tub!
Morgantown PA Pest Control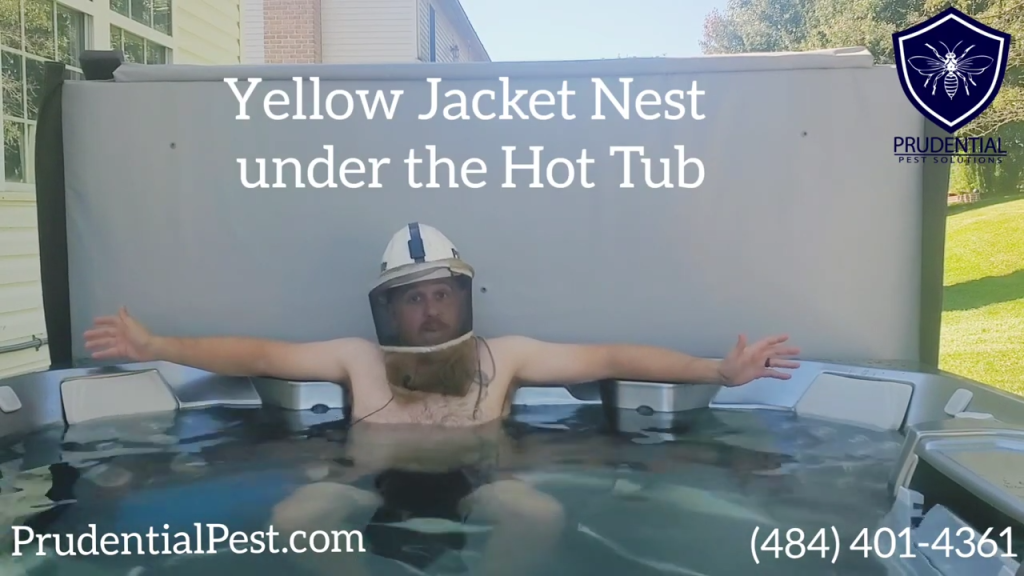 Prudential Pest Solutions services Morgantown PA and the surrounding areas including Berks County, Chester County, and ALL of South Eastern Pennsylvania. As a Marine Corps Veteran with a degree in Biology from Penn State, I promise you haven't met a yellow jacket exterminator like me before!
If you have a yellow jacket, hornet, wasp, or bee issue, it's time to call the professionals at Prudential Pest Solutions. Give us a call or text us at (484) 401-4361 to speak with a yellow jacket expert today!