Our clients in Glenmoore Pennsylvania, Chester County noticed a ton of yellow jackets coming and going from the louvered vents of the bathroom exhaust.
There was some staining on the inside ceiling indicating that the nest was directly above the ceiling. The ceiling drywall was still firm and showed no evidence of actual damage so I decided to treat and remove the yellow jacket nest from the outside.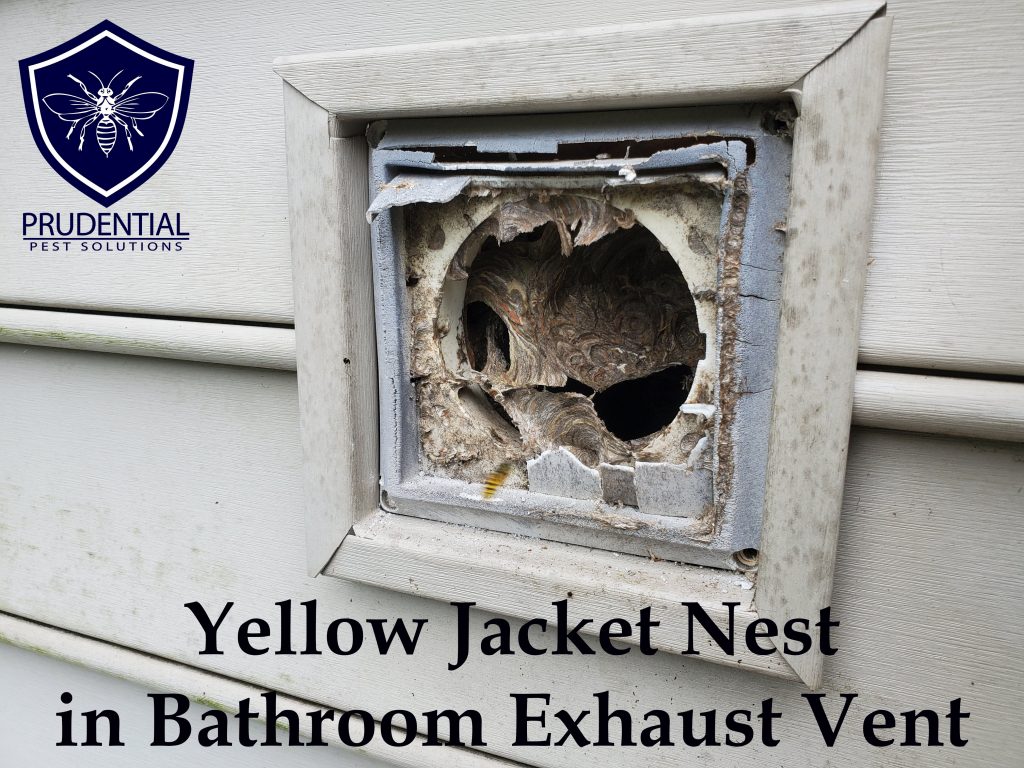 Upon treating the nest and removing the louvered cover, I discovered that the yellow jacket nest was ENORMOUS. I could only access the nest by sticking my arm into the exhaust vent opening. The nest spanned across 2 ceiling joists and included comb and a lot of paper nesting material. I was only able to reach my arm in to about elbow deep so I had to use my saw to help remove some of the nest.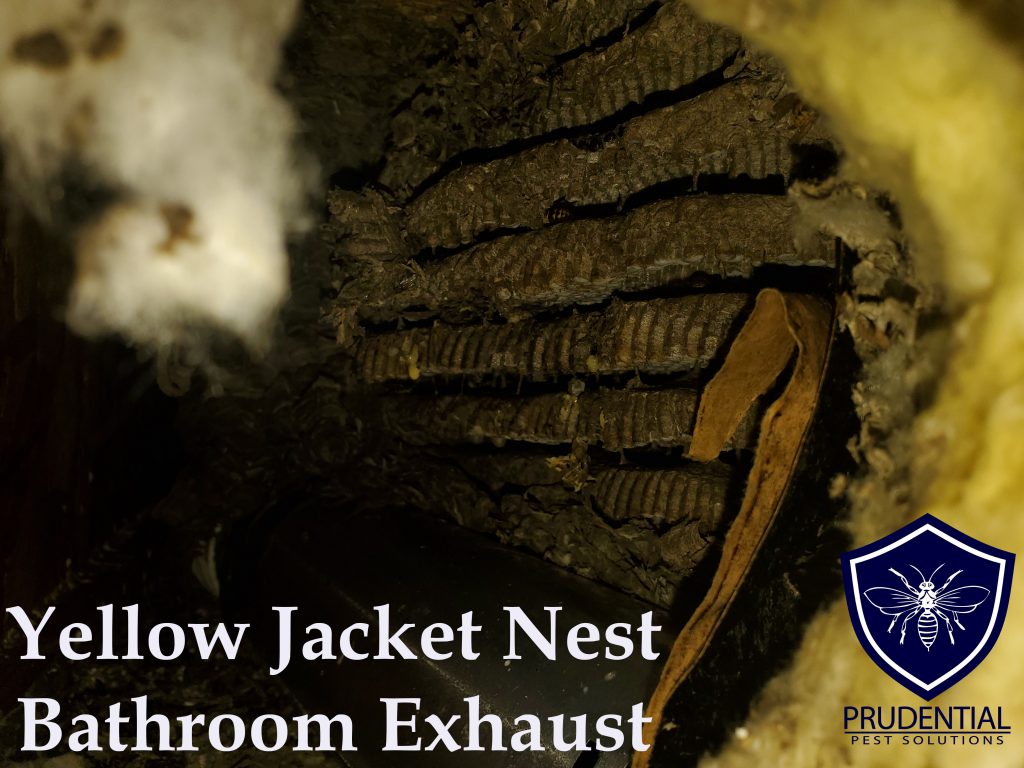 Once I ensured ALL of the nest and nesting material was removed from the void surrounding the bathroom exhaust, I applied a long term residual insecticidal dust to the area. Tape was then used to cover the bathroom exhaust opening to prevent the many yellow jackets that were flying around from re-entering the space.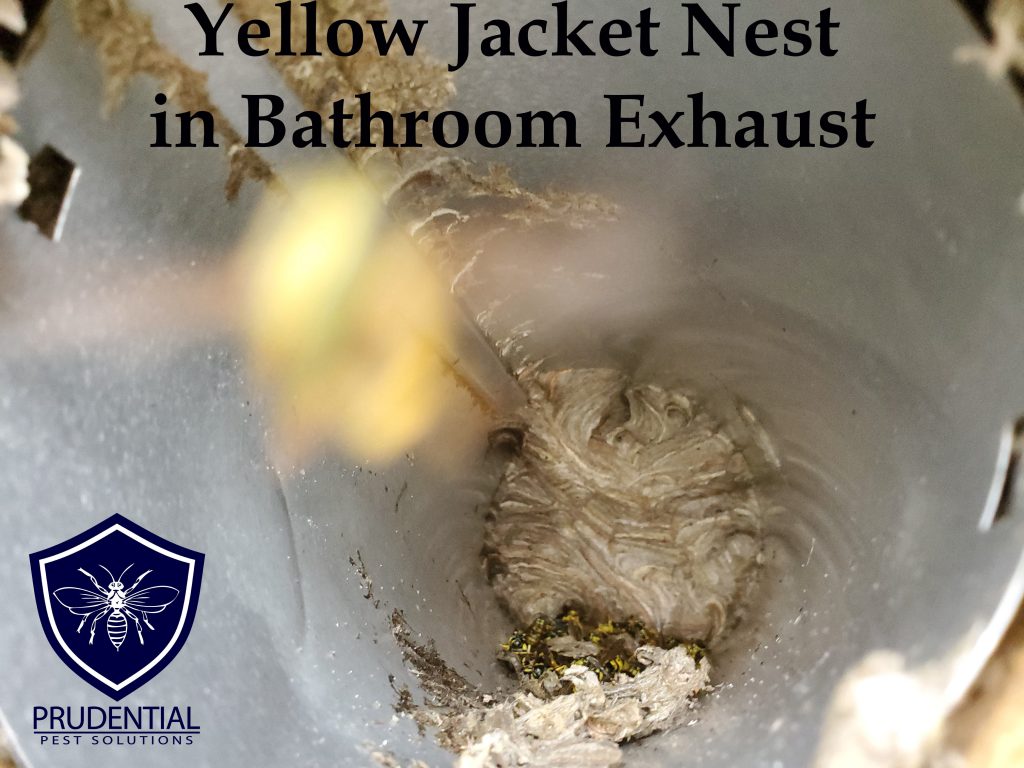 Since the exhaust vent was coming from a powder room on the first floor I was comfortable temporarily taping off the opening. This is because the powder room doesn't have a shower in it and thus didn't have a lot of moisture to exhaust. The purpose of a bathroom exhaust is to remove excess moisture from the bathroom and exhaust it out of the home. The homeowners will remove the tape and install a new louvered vent cover in the near future.
After the nest was treated and removed and the entrance taped off, I cleaned up all of the nesting material. There was an absolute ton of nesting material that we removed and the clean-up took longer then most yellow jacket jobs.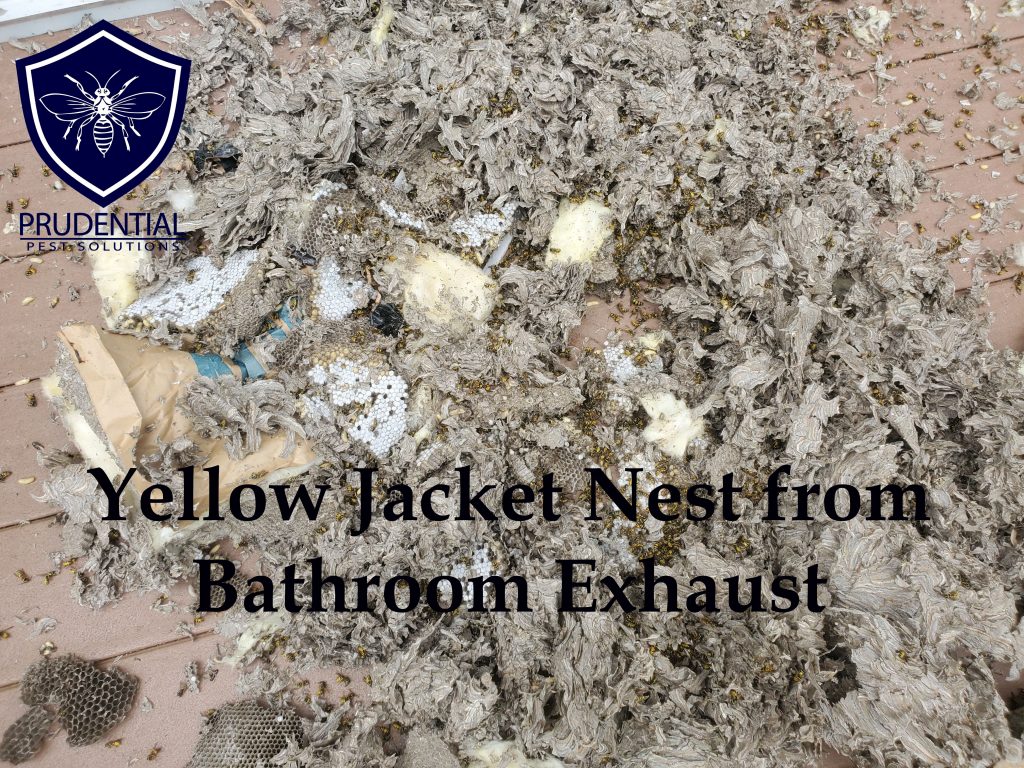 This client found us because they knew they needed a professional exterminator for this treatment. They requested recommendations on the NextDoor App and some of our other clients highly recommended us. We always strive for referrals because it shows that we take our customer service and professional treatments seriously.
Prudential Pest Solutions is a full service pest control and exterminating company servicing ALL of South Eastern and South Central Pennsylvania. We are EXPERTS at treating and removing yellow jacket and hornet nests from in and around homes and properties. As a Marine Corps Veteran with a degree in Biology from Penn State, I promise you haven't met an exterminator like me before!
If you have a yellow jacket, hornet, bee, or wasp issue, call the experts at Prudential Pest Solutions. You can reach us by calling or texting us at (484) 401-4361.