Rodent Control Chester County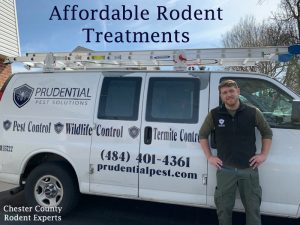 We Offer Rodent Control in Chester County. Contact us today!
Rodents cause damage, spread disease, and are just not welcome in your home or business. We can get your home or business rodent free and keep it that way. Using a "outside-in" approach, we will formulate and execute a plan of action that will be effective, long term, and safe for pets, people, and non-target species. Give us a call or send us a message to talk to one of our experienced staff that can help get you rodent free.
Exclusion: Mice only need the size of a nickel to enter a structure. We can work with you to locate and eliminate current and potential rodent entry ways.
Cleanup: We utilize a HEPA Vacuum to remove all visible and accessible rodent droppings so you don't have to. Rodent droppings can be hazardous to your health. We have the correct equipment to safely remove rodent droppings.
You can find out more information on our pest and insect removal vacuum here.
Rodenticides (baiting): Interior or exterior. All of our bait is placed in locked stations or placed in inaccessible areas to protect pest, people, and non-target species.
Trapping: Mechanical and/or live trapping
Rodent Articles and DIY