Our client in Lancaster Pa was seeing yellow jackets coming and going from the roof line where the dormer roof meets the main roof of the home.
In the spare bedroom directly under the area where the yellow jackets were seen entering the roof line, the homeowners could hear the yellow jackets in the wall.
When I arrived, I could see the yellow jackets coming and going from the roof line. As I inspected inside the spare room, I could see the soft spot in the wall where I suspected the nest was located.
When I put my hand on the soft spot on the wall, it felt warm to the touch. After putting on my bee suit and prepping the work area with tarps, I poked a small hole into the wall and injected a pressurized aerosol into the wall void.
The nest immediately came to life and you could hear a loud and continuous buzzing sound coming from the wall. As the sound started to die down as more and more yellow jackets were killed, I began to open more of the damaged drywall.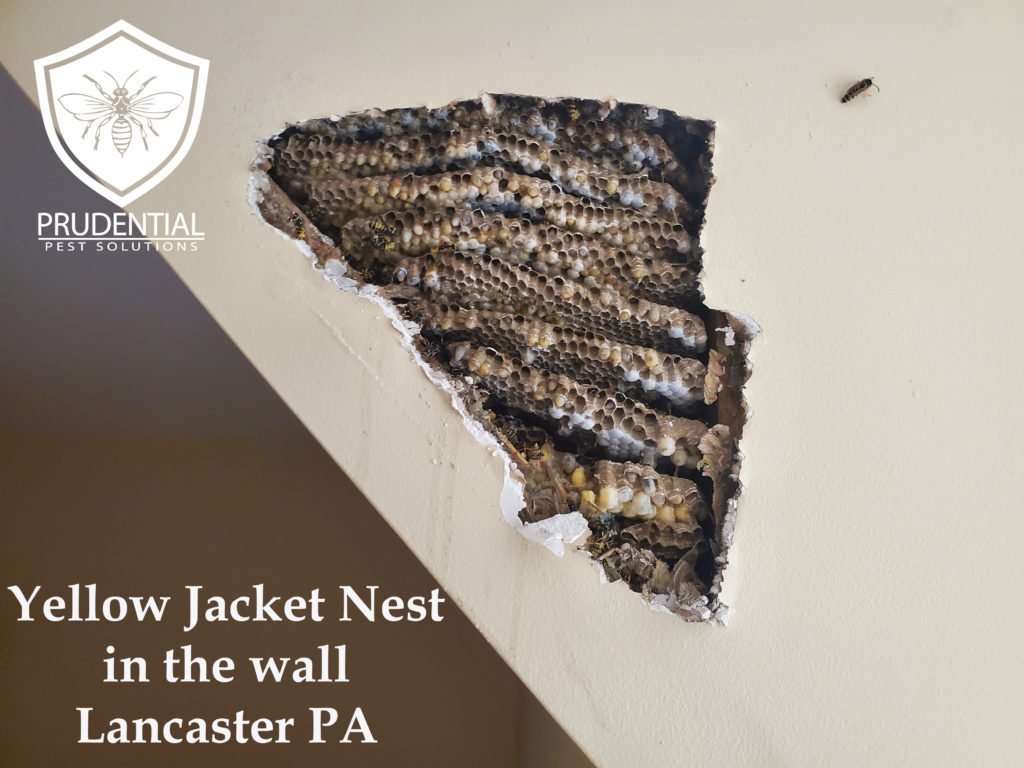 The drywall was very thin due to the yellow jackets chewing at the back side of the drywall. This makes the drywall super soft and very easy to cut through and remove. As more of the drywall is removed, I continue to inject the aerosol PT PI into the wall void. This is because as more of the area is exposed, the PT PI can reach more places into the wall void.
Once the sound inside the wall quieted down, I began to remove the combs of the nest. In this case, the comb of the nest was removed in complete pieces. This is not always the case as sometimes the soft nesting material breaks apart during the treatment and removal process.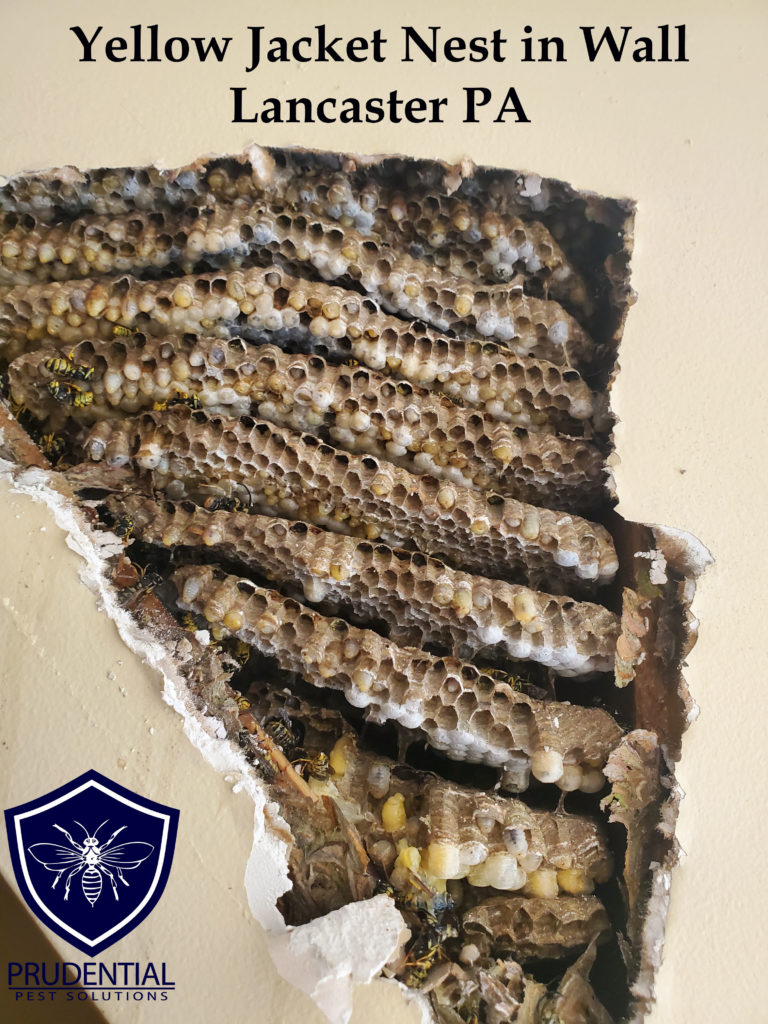 Once the nest and nesting material was removed, I taped off the openings in the drywall so no new yellow jackets could enter the room. This client requested that we not use an residual chemical in the wall void. This will result in still having a few straggling yellow jackets in the wall void but they will not last long.
These remaining yellow jackets will not be able to rebuild the nest and will eventually die off. After the nest was treated and removed and the area taped off, I cleaned up and vacuumed the area. This leaves a clean appearance and only leaves the homeowner with the job of hiring a drywall professional to patch up the area.
Prudential Pest Solutions is a Veteran and Family owned and operated pest control and exterminating company. As a Marine Corps Veteran with a degree in Biology from Penn State, I promise you haven't met an exterminator like me before!
We service Berks County, Chester County, Delaware County, Lancaster County, Lebanon County, Montgomery County and ALL of South Eastern and South Central Pennsylvania.
If you have a yellow jacket, hornet, bee, or wasp issue, call or text the professionals at (484) 401-4361