Our affordable flea treatments can get your home back to normal quickly and safely.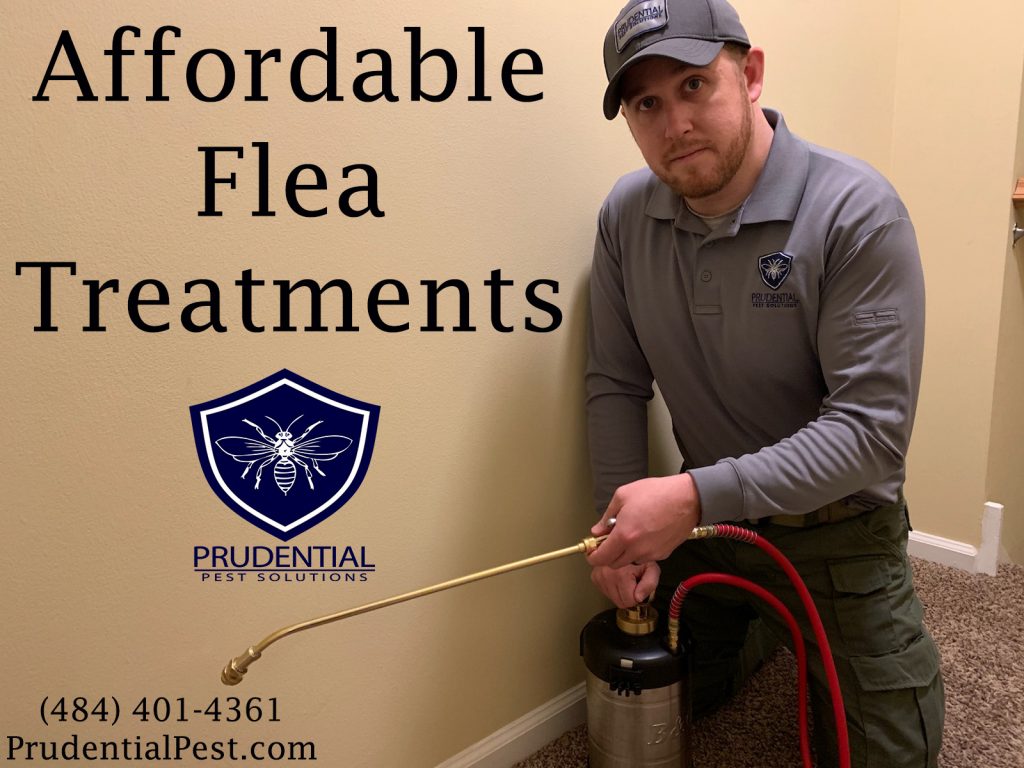 Our flea treatments are pet friendly
Your family and pets' safety is our top priority when we are performing a flea treatment. Once our treatment dries, it is fine for your family and pets to re-enter the home.
How do we treat for fleas?
Flea treatments involve the use of vacuuming and the application of 2 insecticides. Once the treatment dries, it is safe for pets and occupants to return to the home.
Our Flea Treatment Process
Pets should be removed from the home and ideally treated for fleas on the same day as our treatment
Occupants of the home should plan on being out of the home for approximately 3 hours.

Once the treated area is dry, it is safe to return to the home

Using a special bug vacuum, we vacuum the area to remove as many live and dead fleas and eggs as possible
Using a combination of 2 insecticides, we treat the interior of the home.

One insecticide kills the adult fleas
The other insecticide does not kill adult fleas but renders them sterile.

We then vacuum the area again after the treatment
A follow-up service is performed 2-4 weeks later to treat any remaining adults that have hatched since the initial service.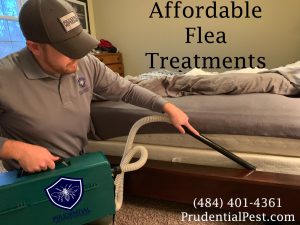 I used a "bug bomb" and still have fleas, how do I know your treatment will work?
Using a "bug bomb" or fumigant to treat for fleas is often not effective. This is due to 2 main reasons:
The fumigant did not kill the flea eggs
The fumigant did not leave a residual to continue killing the adult fleas.
Our flea treatments work
We use professional grade chemicals and processes to effectively resolve flea infestations.
The combination of insecticides to attack different life cycles of the flea combined with our vacuuming procedure can resolve even the worst flea infestations
By scheduling a follow-up service 2-4 weeks after the initial service, we are attacking any and all surviving fleas that have hatched since the initial service.
Effective Flea Treatments
Our flea treatments are affordable, professional, and effective. Don't continue to suffer the bites of these tiny insects. Let Prudential Pest Solutions resolve your flea infestation!
Where do we service?
We provide affordable flea control and treatments to Chester County and South Eastern Pennsylvania. From Elverson and Downingtown to West Chester, Malvern , and the Main Line, we have a pest solution for you!
About Prudential Pest Solutions
Prudential Pest Solutions is a family and veteran owned exterminating company that services South Eastern Pennsylvania. Our owner, Ryan, is a Marine Corps Veteran with a degree in Biology.
We are licensed by the State of Pennsylvania and the Pennsylvania Game Commission. Prudential Pest Solutions is fully insured.
You don't have to suffer from a flea infestation
We are committed to safely and effectively resolving your flea infestation. Trust our expert technicians to return your home to a pest-free state!
How can I schedule an appointment?
Give us a call or text at (484) 401-4361
Send us a contact form here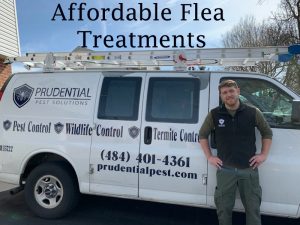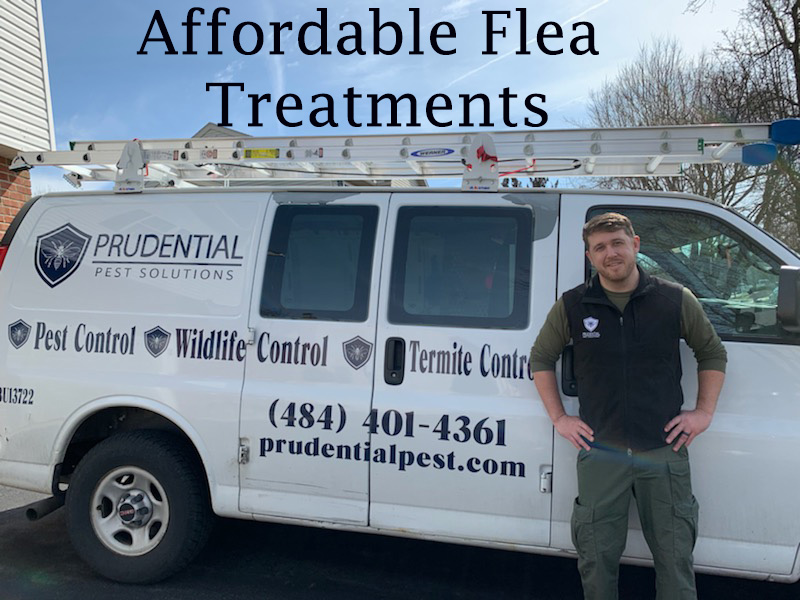 Additional Services we offer